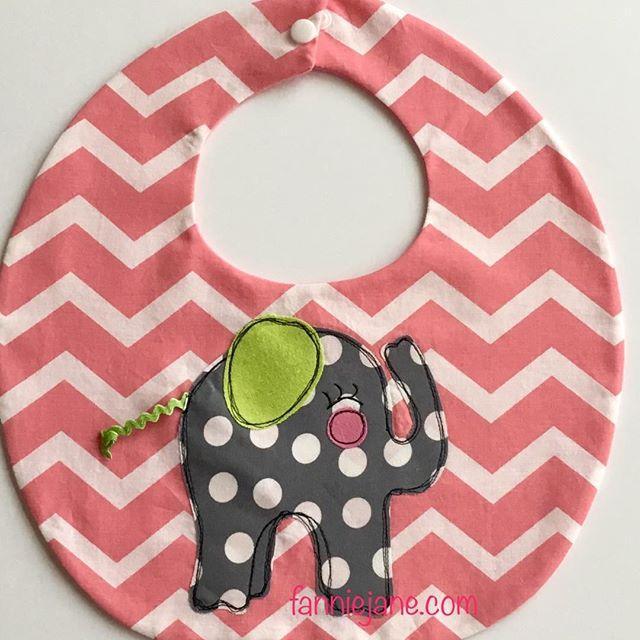 handmade baby girl elephant bib
$18.00
This listing is for a baby elephant bib. This sweet little elephant is a character in one of my children's stories. With a ric-rac tail, this cute elephant will make mealtime so much fun! No doubt it will be the cutest bib your baby owns. 

It makes a perfect shower gift, birthday, or Christmas present. It does a great job keeping super droolers dry, and looks absolutely adorable when paired with the matching baby elephant onesie. 
Laundering instructions:  Machine wash warm, gentle. No bleach. Machine dry low, gentle, or lay flat to dry.
Contents:  Made from 100 percent cotton fabric and high quality, absorbent terrycloth on the back.  Plastic snap for closure.  Snap manufacturer recommends no bleach and no high heat, which could impact the integrity of the snap.  Always check snaps and buttons on any clothing items before placing on a small child. 

Dimensions:  Measures approximately 10" across and 12" long.
Just my humble opinion: I would much rather give a handmade gift than one purchased at a big box store which was mass produced in a factory somewhere. A handmade gift is a gift of love. If you don't have the time or desire to make one yourself  - no worries -  I'll lovingly create one for you.
I believe in handmade.   I'm so passionate about handmade I decided to create an online community where all of us who feel the same way can gather. I hope you will visit and join us. If you add your name to my mailing list you'll be the first to know whenever any posts, new products, or fun tutorials are added! To join -  click on  "come join us"  at the top of this page. 
Here's where you can find me: 

pinterest - fannie jane
Instagram - fanniejane
facebook - fanniejane.handmade