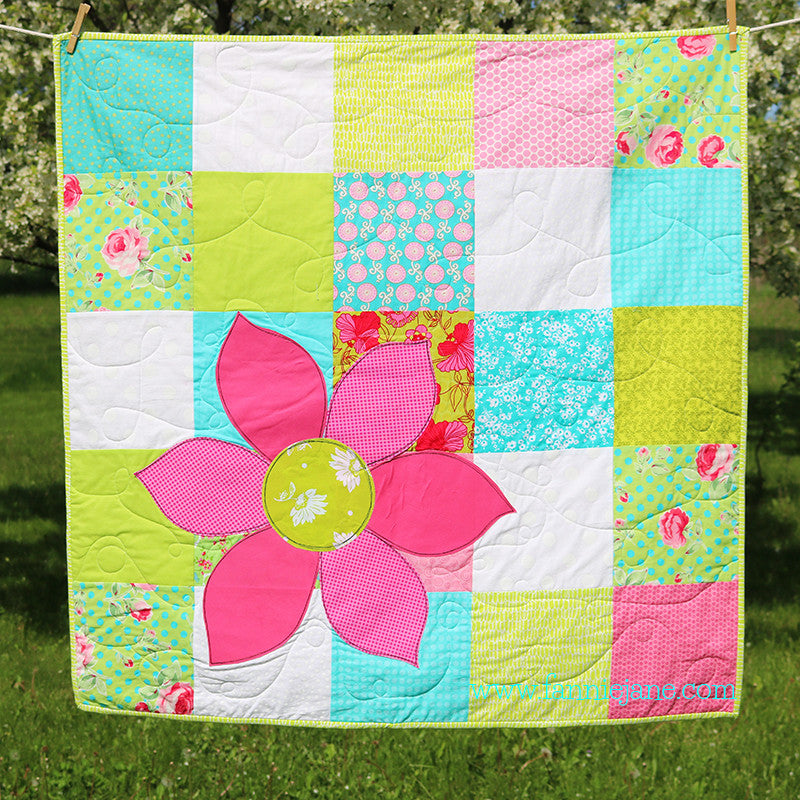 handmade flower on patchwork quilt
$235.00
This quilt just makes me happy.  The colors are so lively and cheerful, and the oversized flower makes the quilt feel whimsical. Perfect for a wall hanging in any room, or for a very special new baby girl.
This quilt measures approximately 40 x 40.

The back is a fun pink print with white polka dots measuring 3/4" large.
Made with 100 percent cotton and batting.
Hand wash cool, or machine wash gentle cycle, cool.  No bleach.
Lay flat to dry or tumble dry low, gentle.  The batting is 100 percent cotton so if you dry it on a higher setting it will have that old fashioned, crinkly vintage quilt look that we all love, but it's up to you.  If you want it to stay the way it is, I recommend laying flat to dry. 
Just my humble opinion: I would much rather give a handmade gift than one purchased at a big box store which was mass produced in a factory somewhere overseas.  There is something very personal and special about a handmade gift, because it is made with love.
I believe in handmade. Actually, I'm so passionate about handmade I decided to create an online community where all of us who feel the same way can gather. I hope you will visit and join us. If you want to be kept up to date add your name to my mailing list and I'll let you know whenever anything new and exciting is happening!
I hope to see you there, I can't wait to meet all of you.

Custom made for you (with tons of love of course) within 1 week of order!